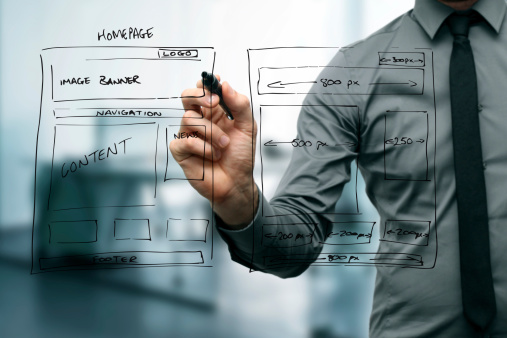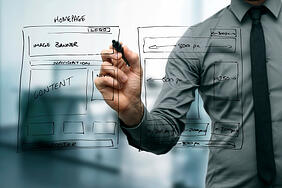 Now that you're starting to plan your inbound marketing strategy, the first item on your list must be your website.
Today, prospects are visiting your website before they even think about contacting you in any way. If they get a bad or even neutral feeling from your site, forget it – they're gone.
The best way to evaluate your website design and prioritize what needs to be done to it in 2015 is to run it through a rigorous evaluation. Here are 12 questions to ask yourself about your website in order to set an upgrade path for 2015.
1. Does it have an active blog?
If you don't have a blog, get one immediately. If you have one but you're not updating it at least once a month, get that onto your 2015 plan. Data from our extensive client base proves that the more you blog, the more visitors you get to your website. Make this an active part of your 2015 plan.
2. Does it have educational content available for download?
If your site is lacking educational content that visitors can download, you're missing any chance of ever getting leads from your website. This, too, must be front and center in 2015. Data from our extensive client base proves that the more fresh content you publish, the more leads you're going to generate. Consider adding something monthly to optimize the lead generation from your site.
3. Does it work on all smartphone and tablet devices responsively?
Mobile access to your website is pushing 20% these days. So if your website isn't 100% responsive, you're turning potential prospects away. A responsive site renders differently on phones and tablets. And even if your current website does this, it also has to adjust perfectly and deliver a remarkable experience – regardless of how your prospects are accessing your site and downloading your content. Make sure it's responsive and not just mobile-friendly.
4. Is the site structured, architecturally, for on-site SEO?
A lot goes into making sure that your website is built to be found by the search engines. The page names, page titles, URLs, alt tags, meta tags and meta descriptions all have to be thought out strategically and used perfectly to get your site found. If you don't have a strategic perspective on your keywords and context, it's virtually impossible to do any on-site SEO.
5. Is the site written for on-site SEO?
In addition to the architecture of the site, the copy (the words on each of the pages) also has to be optimized for search. The search engines are looking for your keywords in the headlines, paragraphs and descriptions of your images. If you didn't consider your keywords when you had your site written, you're definitely not optimizing your ability to be found on the Web.
6. Does the home page tell an emotionally compelling story that people get in 10 seconds or less?
Microsoft and Google both report that most people spend 10 seconds on your home page before deciding whether to hit the back button. Is your site all about you? If you're not telling a compelling story that provides your visitors with a remarkable experience and makes them the hero in your story, you're blowing it. Right now, you have people landing on your page and then leaving because you talk too much about yourself, your company, your people, your products or your services and not enough about them, the people you want to help. Change that, and watch your leads go through the roof.
7. Does it feature success stories, testimonials or case studies?
Do you believe everything you read online? Of course not. We're all skeptical, and so are your prospects. But you have stories, testimonials and case studies about people whom you've helped, who love working with you, who have seen amazing results from your products or services. Highlight them on your site and make sure those stories come in the right order.
First, people want to know that you get their pain, that you understand them. Then, they want to know that you have a solution to their challenge and that you're going to do something different from all the other solutions out there. Finally, they want to see whom else you've helped who's like them. Put up your messages in this order, and watch your website performance explode.
8. Is it clear from the home page why your business is different from everyone else in your industry?
Solid marketing is designed to make your business stand out, even if that makes you uncomfortable. No, you don't want to look like your competitors. No, you don't want to say what they're saying. In fact, you want to look and sound as dramatically different as possible. You want to be remarkable. Being remarkable means that you're saying things NO ONE else is saying. You're promising things that NO ONE else is promising. Step out on the limb – it won't break. And maybe, just maybe, you'll take off and fly.
9. Is it clear from the home page "why" your business exists?
Your prospects are human beings, and people make purchase decisions emotionally. This means that you need an emotional message on your website – on your home page – that gets them to stop and say, "Wow, this company is really special." Why did you start this business? Why are you still in business? What's your higher calling? How do you help people? Once you have this "why" down, make it front and center on your website. You're going to be shocked at how this one little secret drives results.
10. Is your website connected to social media sites in an effective way?
You want your site to be associated with your social media properties, but don't make it too easy for people to leave your site and bop around on Facebook. Keep your social icons grayed out, or blend them into your color scheme so they're not too distracting.
11. Do you have lead-generating landing pages?
The data doesn't lie: Companies with 30 or more landing pages get seven times the leads of those with 10 pages or less. Companies with 40 or more landing pages get 12 times the leads. If you want more leads, you need more landing pages. Make sure these pages are designed with limited navigation, large images of the downloadable item, sharp copy in bullet format and an appropriate form.
12. Does the site have analytics that you review regularly from your smartphone?
In 2015, you have to get intimate with your numbers. You need to know how many visitors your site is getting right now. You need to know your sitewide conversion rate, and you need to know how many leads you got yesterday. If you don't know this, you need to find out. Inbound marketing optimization software tools, like HubSpot, make this easy. Right from your phone, you're able to see how you're doing – instantly. More important, now you make decisions based on data, not gut.
You can't cut any corners here. If you're missing any of these elements in your website, you're going to get disappointing results. Stop pretending your website is OK and that no one cares if it doesn't work perfectly on an iPhone. They do care. They care so much that they're never going to talk to you about doing business if they don't have an amazing experience on your website. Do you really want to take that chance?
Start Today Tip – Run your current website through this rigorous evaluation. Yes, it's tough. But it's based on our experience turning ordinary websites into remarkable ones and then watching the visitors and lead numbers skyrocket. Your site has to satisfy each of these criteria, and it has to do so eloquently. As you're planning for 2015, the site doesn't have to address all of these on January 1, but you should have a plan in place to make improvements every single month. Then, by March or April, your site should be up to snuff, with the results improving. Don't wait another day to get this part of your marketing moving in the right direction.
Square 2 Marketing – Leading The Reality Marketing And Inbound Marketing Revolutions!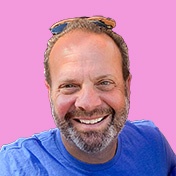 Mike Lieberman, CEO and Chief Revenue Scientist
Mike is the CEO and Chief Revenue Scientist at Square 2. He is passionate about helping people turn their ordinary businesses into businesses people talk about. For more than 25 years, Mike has been working hand-in-hand with CEOs and marketing and sales executives to help them create strategic revenue growth plans, compelling marketing strategies and remarkable sales processes that shorten the sales cycle and increase close rates.