Get 6 Months Of Work
In Just 30 Days
Funding creates opportunities and expectations. Kick-start your timeline and take your marketing and sales to the next level with a program built for those who desire velocity and fast results. Fueled by teams of specialists dedicated to you, our Accelerated Engagements deliver months of work in 30 days, leaving old-school agencies and retainers in the dust.
Velocity
In business, success often hinges on time to market. You need a website now, not months from now. Our Accelerated Engagements provide velocity, producing impactful work immediately and delivering results in weeks rather than months.
Dedicated Team
You get a dedicated team tailored to your needs. Your team becomes intimate with your brand and can focus intensely on your goals, creating a highly efficient and productive engagement.
Agility
Speed and agility aren't mutually exclusive. Leveraging deep experience and an extensive track record, your team remains nimble and responsive throughout the engagement, continually refining strategies and adjusting tactics as needs and priorities surface.
Efficiency
In the retainer model favored by most agencies, time is wasted and productivity is lost as teams constantly shift between multiple clients. Your team quickly builds sustained momentum and productivity, maximizing your time and budget.
Customization
From website redesigns, content creation and campaign development to a killer combination of high-value deliverables, every Accelerated Engagement is customized to your unique needs. Taking your stated objectives, we craft a personalized plan to achieve desired outcomes.
Collaboration
This is your team. They're incredibly sharp and immensely talented – and you'll collaborate closely with them. Because delivering maximum work in minimal time hinges on communication, you'll meet daily to discuss progress, provide feedback and approve work.
They Had A Need For Speed ​​– We Blew Them Away
Learn how we created a library of content in a month to help Scoop support its 10-city ABM campaign.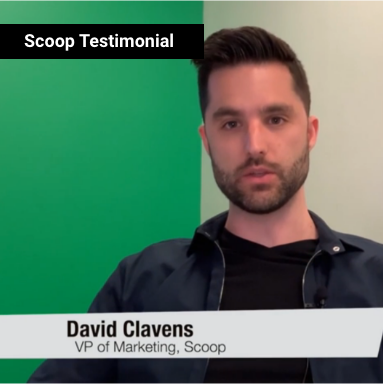 Let's Plan Your Accelerator Today!
Fill out the form below and we'll schedule a complimentary scoping session with you to sketch out exactly what we can accomplish for you in just 30 days.