Inbound With Agility:
The Approach That Drives Results
Agile marketing is our signature approach to marketing. Our team is focused on collaboration and constant optimization to ensure we're meeting your business goals. Rather than sticking to a static plan, we constantly track metrics, evaluate your results and then optimize tactics to generate leads, close more deals and drive growth.
THE PILLARS OF OUR APPROACH: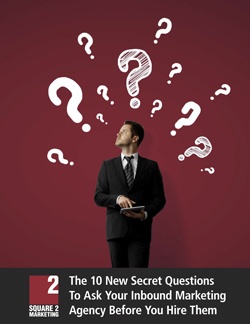 The 10 New Secret Questions To Ask Your Inbound Marketing Agency Before You Hire Them
Strategy Before Tactics:
Your Roadmap To Results
Have your ever tried baking a cake without the right ingredients? What are the odds that it will taste good?
Just like baking, your inbound marketing recipe needs the right ingredients:
Used correctly, these tactics help drive prospects to your site, turn them into leads and convert them into customers. Without the right tactics and a comprehensive plan, you can't expect results.
SETTING YOURSELF UP FOR SUCCESS
STEP 1
The first step in the inbound marketing process is always developing a strategy built on an understanding of your target buyer persona.
STEP 2
The heart of an effective inbound marketing strategy is an understanding of your buyer's specific pains.
STEP 3
Their pains and how you solve them define your story and messaging. They make a meaningful impact on their purchasing decisions.
STEP 4
You generate an abundance of quality leads only when your inbound marketing strategy encompasses a message that speaks directly to your buyer's greatest pains, and execute your tactics that tell this same story.
REMARKABLE OR NOTHING:
SETTING YOUR BUSINESS APART
In today's crowded market, you are just one of many options in front of your prospects. So being remarkable isn't a luxury – it's a necessity.
Branding and marketing differentiation are about creating truly remarkable stories – stories worth remembering and sharing. You must conduct your business in such a way that people want to talk about your company, learn more and take action.
INSPIRE YOUR CLIENTS TO SPREAD THE WORD FOR YOU. USE THESE CHANNELS TO TELL A REMARKABLE STORY:
Not only is this the most cost-effective form of marketing, but it's also the most impactful. Rather than paying to advertise your business, people are telling your stories for you, encouraging others to find you and learn more.
These remarkable stories are the linchpin to wildly successful inbound marketing and inbound sales.
QUANTIFIABLE
GOALS:
DEFINE THE
METRICS TO
TRACK YOUR
SUCCESS
How can you expect to chart a course if you don't even know where you're going? How do you craft a strategy without being perfectly clear about what you're trying to accomplish?
Determining the effectiveness of an inbound marketing program that generates leads and an inbound sales program that drives revenue requires consistent monitoring of a core set of metrics.
For example, if you want to reach $15 million in revenue in the next year, you need to understand how many prospects you must close, how many leads you need to generate and how many people you need to drive to your website.
This insight shapes the sales and marketing tactics that encompass your complete inbound strategy.
HOWEVER, GOALS ARE ONLY VALUABLE IF THEY ARE SPECIFIC, QUANTIFIABLE AND ACTIONABLE.
Of course you want to increase revenue. But how could you determine the best sales and marketing tactics for your program if you don't know exactly what you want to achieve?
THESE GOALS EMPOWER YOU TO:

Track the performance of your programs

Make necessary adjustments

Drive maximum results
AGILE WEBSITE EXECUTION:
DRIVING RAPID RESULTS
Your website is one of your most critical assets. It must attract prospects by giving them the answers they're seeking so they continue through the funnel.
The longer it takes to build a fully optimized website, the longer it will take to generate leads and produce results. To jump-start your lead generation, we've embraced an agile execution methodology for our websites.
IN OUR AGILE WEBSITE EXECUTION METHODOLOGY, WE:
1. Identify your most critical pages
2. Write, design and code these core pages first
3. Go live with these high-impact pages
4. Start driving results
5. Continually work to add supplemental pages
By launching your site with your most important information first, you don't waste any time starting your lead generation efforts.
PERFORMANCE OPTIMIZATION:
CONTINUALLY IMPROVING YOUR PROGRAM RESULTS
With our emphasis on results, we're always monitoring your progress and assessing your performance, from your overall strategy and content to SEO and conversion optimization.
With detailed analysis, we're empowered to optimize your inbound marketing program, drive maximum performance and exceed your goals.
Whether small tweaks or larger changes, optimizing your inbound strategy and tactics is a matter of measuring, reviewing, analyzing and adjusting on an ongoing basis.
INBOUND SALES: GUIDING LEADS FROM PROSPECTS TO CUSTOMERS
A world-class inbound marketing program alone is like a ship without sails. The current will likely help you drift forward, but if you want to cut through the water and quickly arrive at your destination, you need sails to help take you there.
The best "ships" are ones that combine inbound marketing and inbound sales: the final, but critical component of the buyer's journey that turns potential new business (leads) into real customers.
The inbound sales philosophy aligns the strategy behind your marketing and sales.
RATHER THAN SELL TO YOUR INFORMED PROSPECTS, YOU HELP GUIDE THEM THROUGH THEIR UNIQUE BUYER'S JOURNEY.
With this approach, you efficiently convert prospects into customers and achieve your business goals.